Here at DC Customs, we get asked to utilise our vivid imagination, design skill set, expert workmanship and attention to detail to customise a wide variety of vehicles, and when approached to customise a Bentley nothing seemed too out of the ordinary until we had a request for a Bentley Flying Spur pick-up truck.
While not many people would be willing to mess with the chassis of a Bentley, we pride ourselves on going above and beyond to meet our clients requests and love a challenge.  This was no exception and are now proud to present the Bentley Flying Spur Decadence – a luxurious one of a kind customised Bentley pick-up truck.
It was far from easy, making it one of our biggest challenges to date, but definitely worth all the hard work over the last 18 months to ensure we preserved the elegant and elongated lines along with the sophistication that the Bentley is famous for.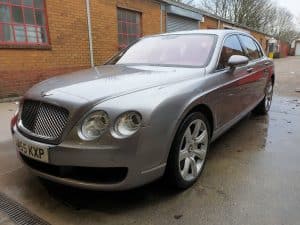 Initially, the Bentley Flying Spur Decadence pickup started out as a large sedan with 4 doors but not for long once we got our hands on it.
Front on, we kept the character of a typical Flying Spur but took it up level by equipping it with a custom bumper, splitter, and headlights, all with the Bentley logo etched into each feature.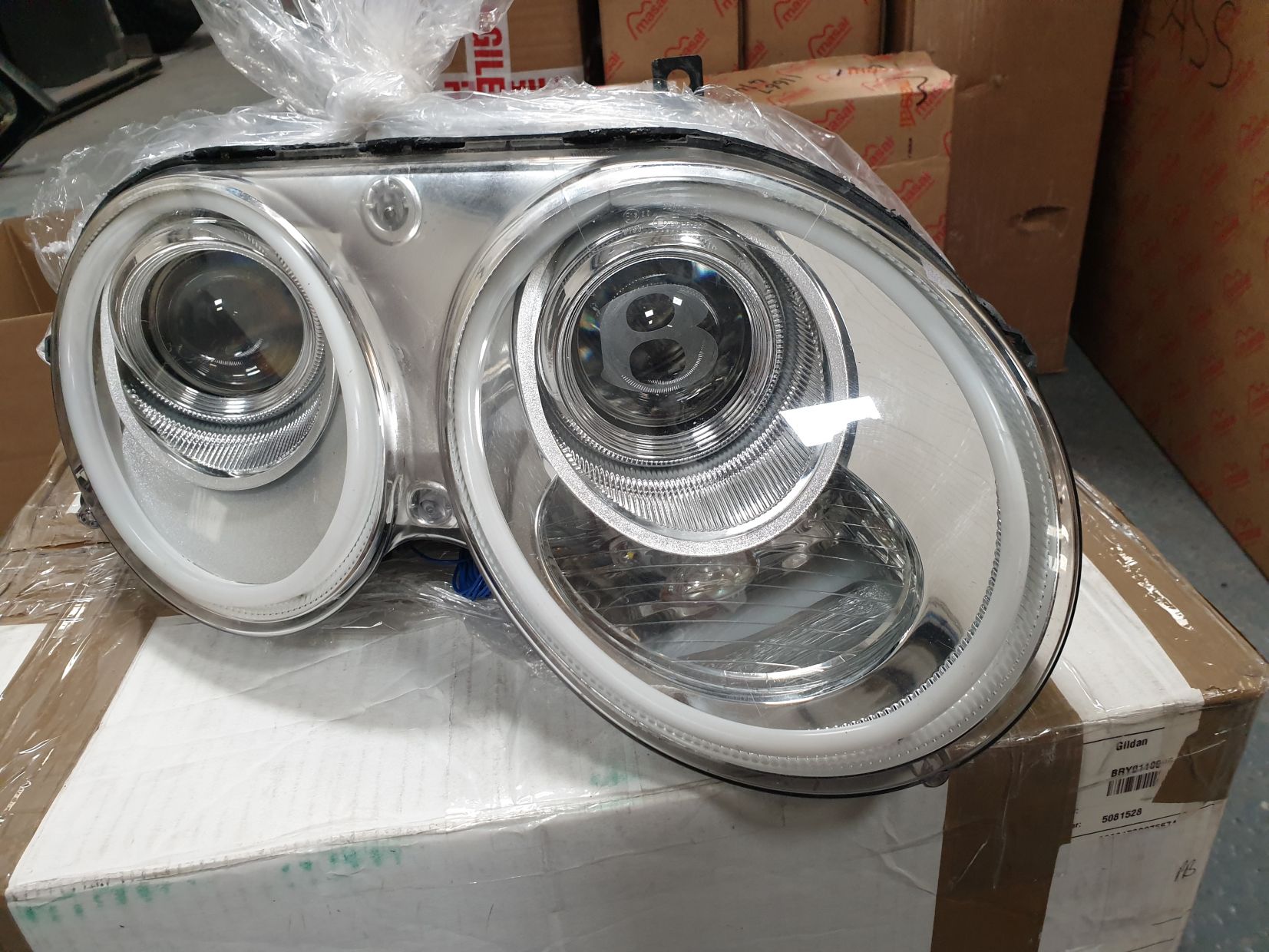 The big changes then started on this one-of-a-kind project with the work from the B Pillar to the back, removing the two rear doors, back seats, and boot to begin its complete unique transformation, with the cabin now strictly designed to accommodate only two people.
The roof was chopped down as much as possible to give just enough room at the back of the seats for bags and other small belongings and enclosed a motor for a sunroof which, with its supporting framework truncated, allowed a more panoramic viewing experience out the top.
The entire rear of the car has been removed, hollowed out and replaced with a truck bed, but miles apart from a truck bed you would expect to see in a pick-up.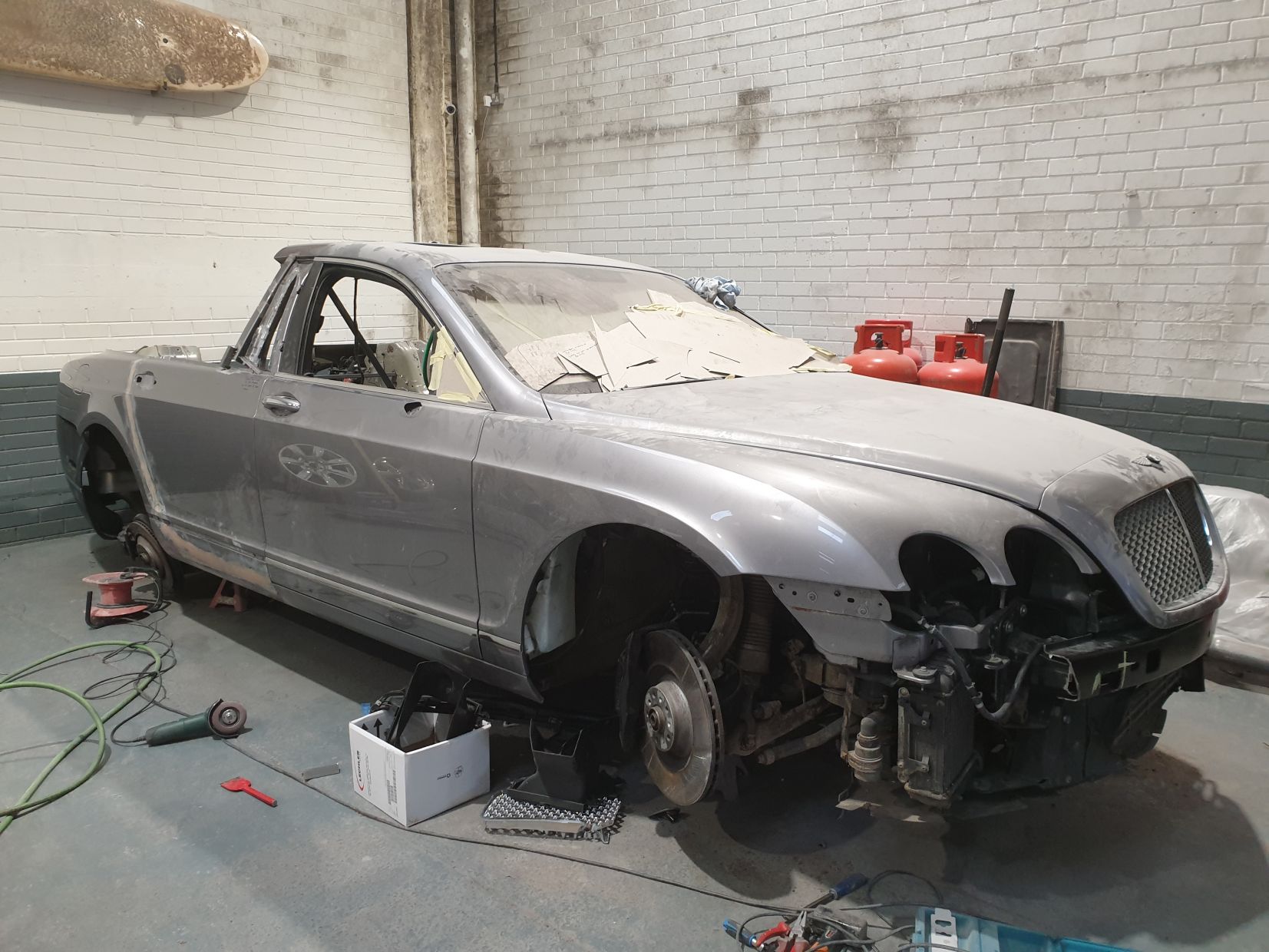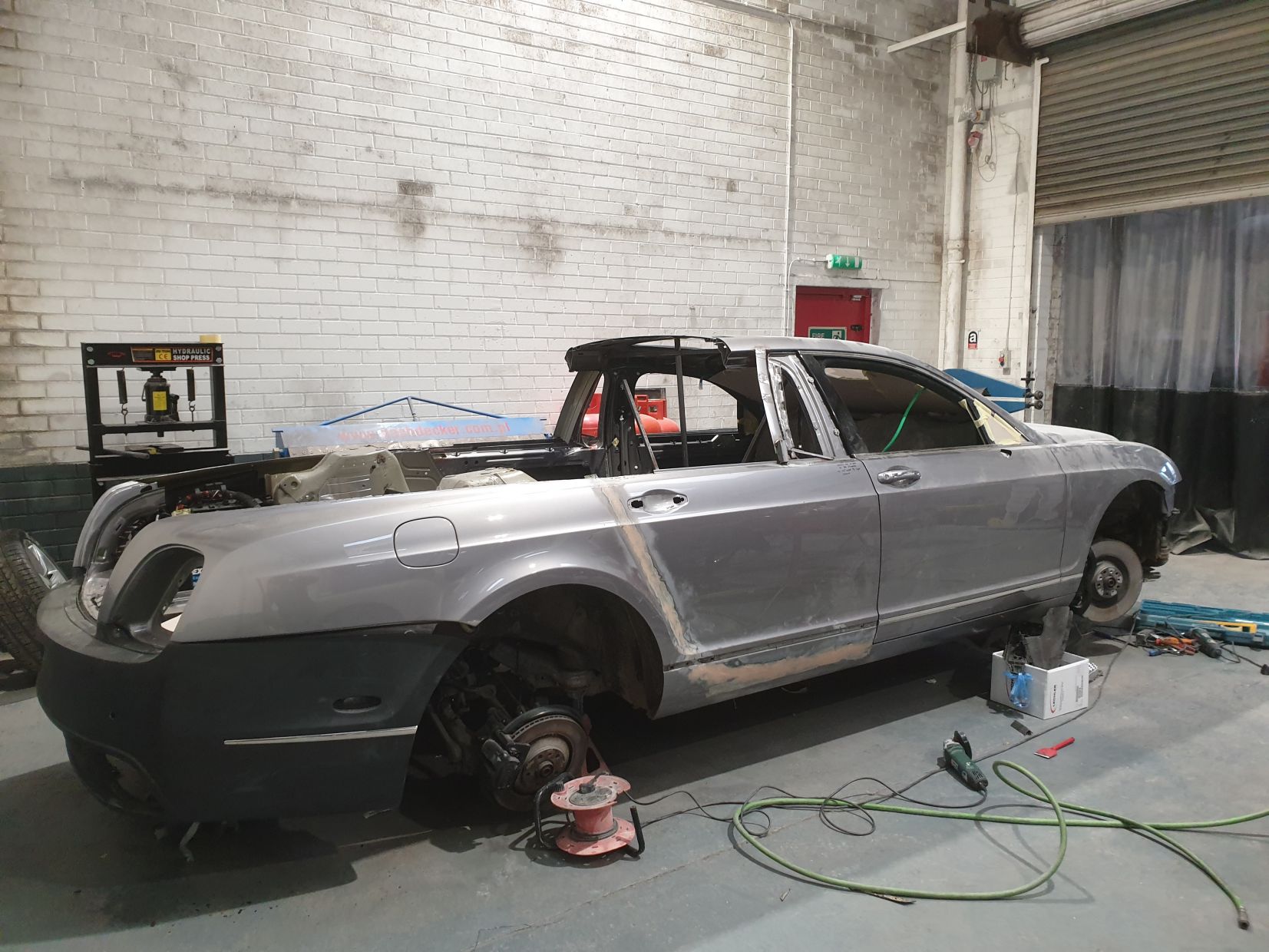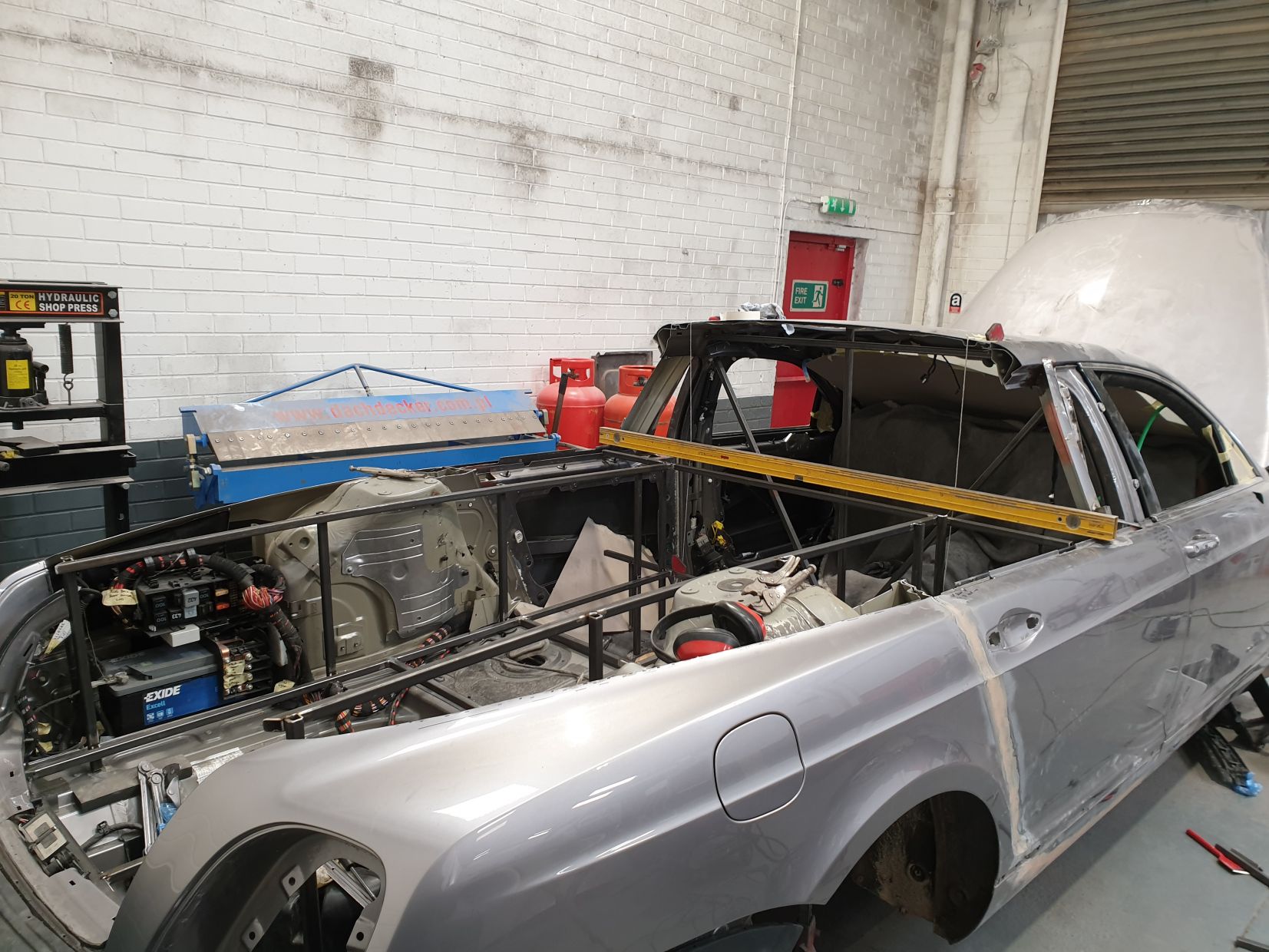 In line with our client's vision, the body behind the cabin on the Flying Spur Decadence has been built to resemble a boat like stern design with the bed lined with real teak wood, complete with matching cabinets and drawers to maximise utility and house the two batteries.  The bodyline of the loading area has been chopped down as much as possible so the sides flowed as much as they could and incorporated a drop-down boot and custom tail pipes.  This unique boat-like design is what sets this vehicle miles apart from anything that has been achieved before on a Bentley and in fact any other vehicle.
The vehicle encases rear quarter windows made to spec and to ensure the design was completed down to every last detail, we used genuine Bentley chrome trim.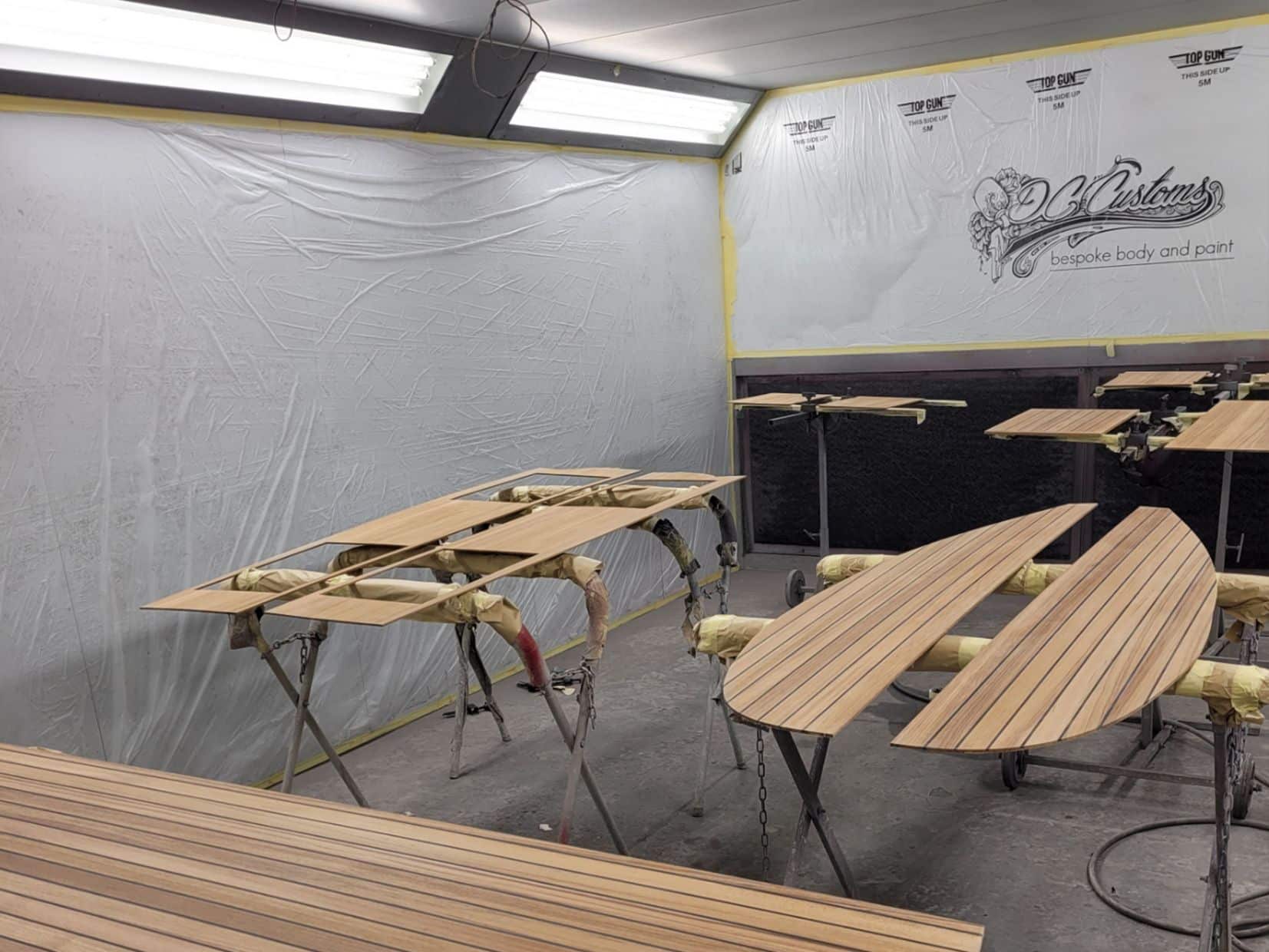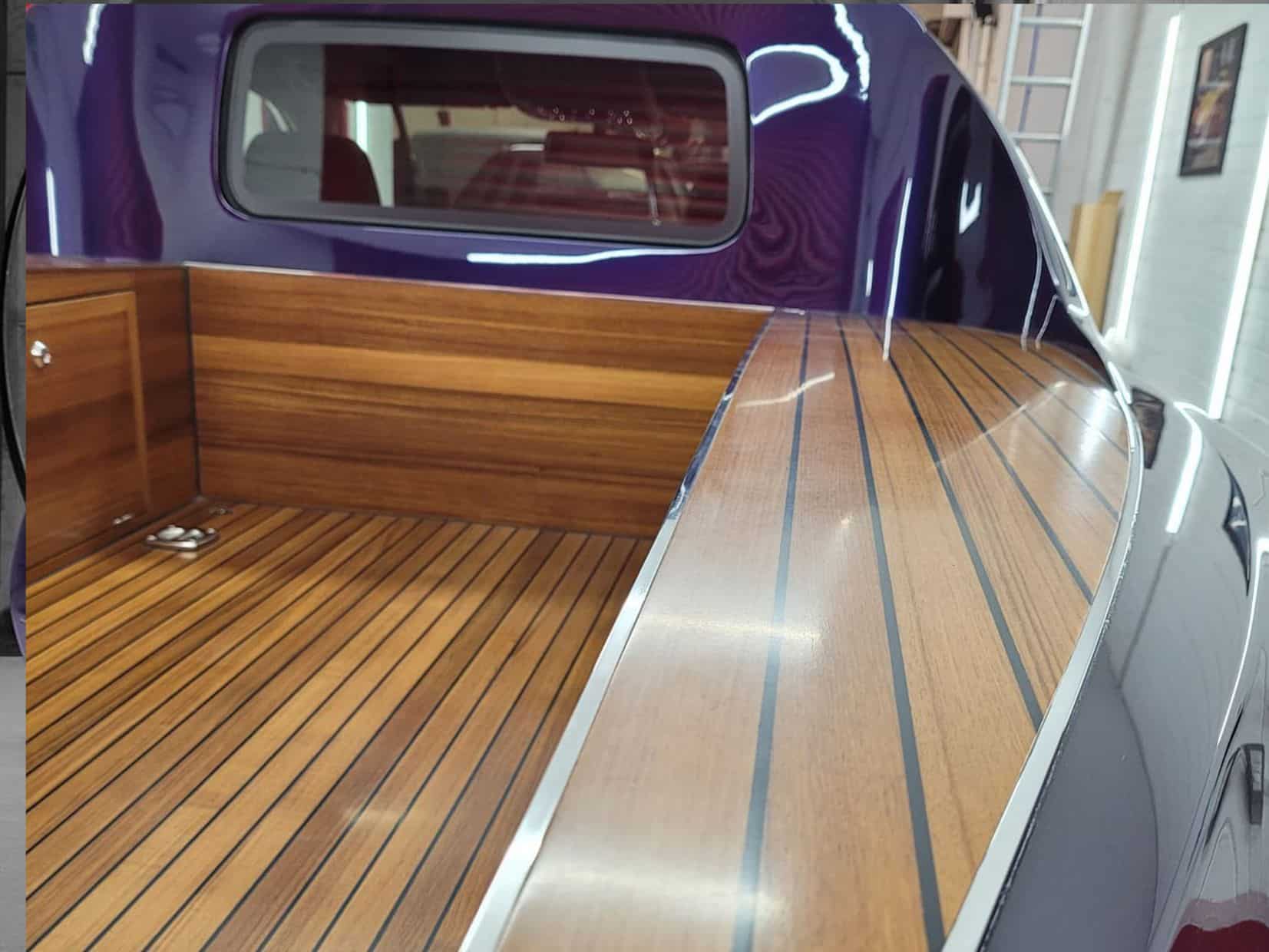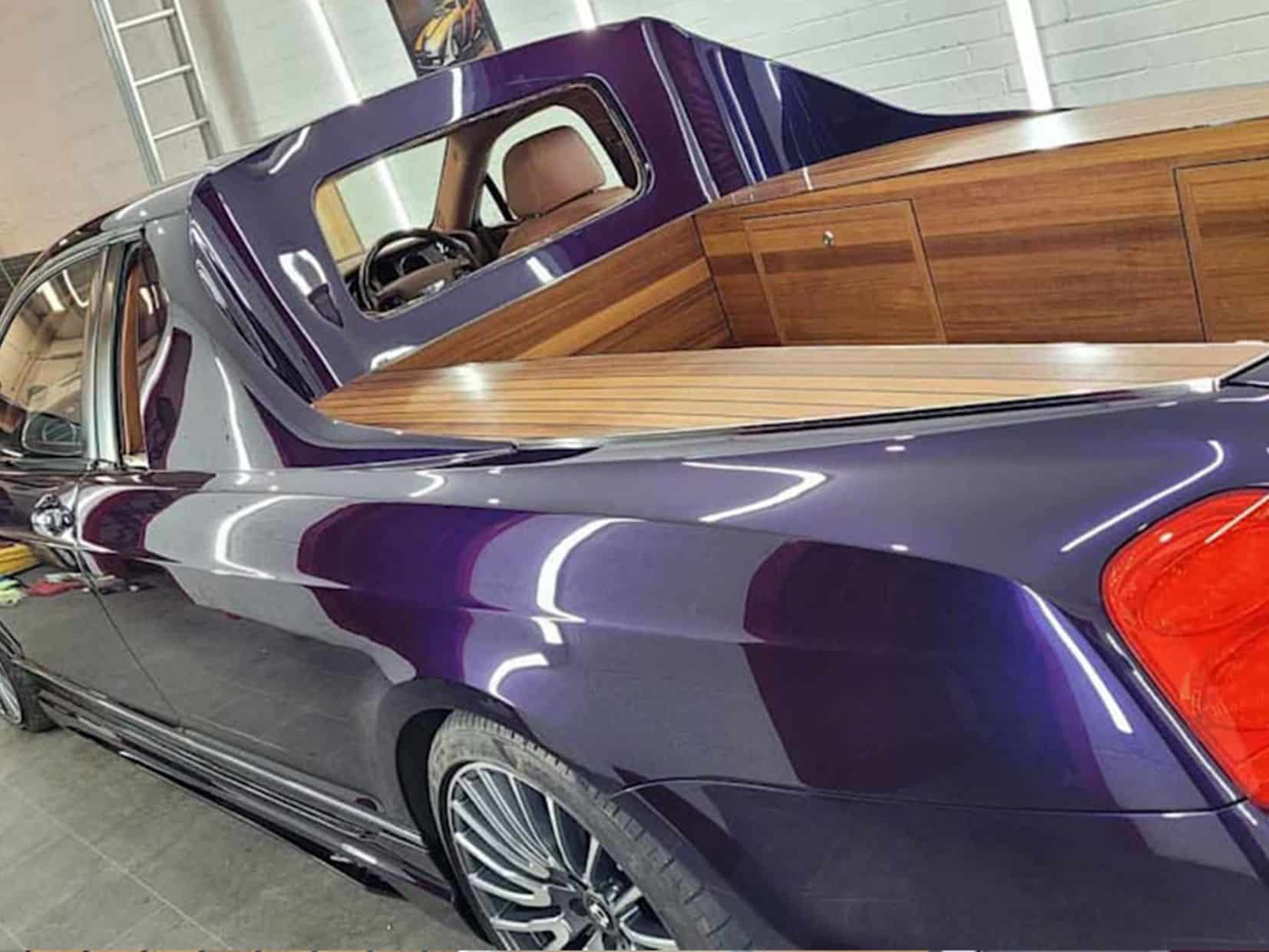 Once all the physical bodywork was complete it was down to the exterior paintwork and cabin interior to complete this showstopper.  To complement the rear wooden teak, the interior was finished off in a two-tone caramel leather, contrasting with a brown carpet and noble wood inserts.
The exterior paintwork has also played a big part of the process.  By hand, the stand-alone bonnet was completed in Aston Martin silver with the remainder of the vehicle in eye catching bi-colour paint combining a deep purple, black and sometimes blue finish depending on the light, adorned with a custom Decadence Bentley badge.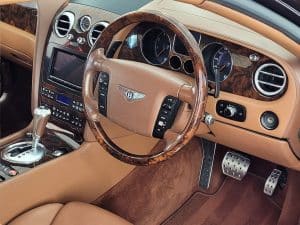 INTRODUCING THE BENTLEY FLYING SPUR DECADENCE
As one of our biggest projects yet, a lot of people thought we must have been mad cutting up a Flying Spur and they were probably right, but as one of our biggest builds and biggest challenges to date it has been fun along the way and we are more than proud of what we achieved for our client.